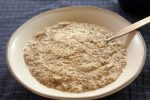 Hot cereal on the GAPS or keto diet? Yes please! This low carb porridge is made of nuts, seeds, and coconut, and is simple to mix up in batches. If you need something warm and filling in your tummy before braving the cool weather, you'll love this recipe! If you're looking for a cool seed-based breakfast, check out our Salted Caramel Chia Pudding.
Please note that hemp is illegal for SCD, but I believe it is legal for the GAPS diet.
Top this warm 'not oatmeal' with toasted coconut, crispy nuts, or berries if they fit into your carb counts.
Hemp Hearts
Hemp hearts are allowed on the GAPS diet once digestive symptoms have passed. They are high in protein and omega 3 fatty acids. They also have a great mild nutty taste that is low in carbohydrates.
Chia and Flax
Chia and flax seeds are also high in protein and omega 3 fatty acids. They absorb water well and give this porridge the creamy texture- without the dairy!
Low Carb Hot Porridge
This dairy-free low-carb porridge is cooked into a comforting and easy breakfast.
1.5 cups water
1/4 cup hemp hearts
1/4 cup almond flour
1/4 cup unsweetened shredded coconut (or coconut flakes)
2 tablespoons flaxseed meal (grind in a coffee grinder or buy pre-ground)
2 tablespoons chia seeds
1/4 teaspoon monkfruit (pure powdered monkfruit, or sweetner to taste)
1/2 teaspoon cinnamon (or pumpkin spice mix)
1 pinch sea salt
1/2 teaspoon pure vanilla extract
2 tablespoons almond butter (or peanutbutter or regular butter)
In a small saucepan, gently mix all ingredients other than the vanilla and almond butter with a fork. This can be done the night before and chilled in the fridge, covered, if desired.
Simmer over medium-low heat for 3-5 minutes or until porridge is creamy and oatmeal-like in consistency.
Remove from heat, stir in vanilla, and then serve. Top individual bowls with almond butter as desired.
3 grams net carb per serving
The post Dairy-Free Low Carb Hot Porridge (GAPS, Keto) appeared first on Health, Home, & Happiness.
Read more: healthhomeandhappiness.com